How to Become a Floral Designer in Pennsylvania
Some of the most stunning pieces of art, involving the use of flowers, embellishments and other decorations, are created by floral designers. This profession places great emphasis on creativity and design skills, enabling you to craft beautiful pieces both big and small. Floral designers must build their knowledge of how colors and other design elements work together to create arrangements that are unique and intriguing.
This career field may involve working with customers who are in various emotional states, from ecstatic to sad. Each person has their own way of reacting to life's events, and certain life events will tend to bring in clients who are in specific moods relative to their unique situations. You must know how to communicate effectively in each situation in order to bring about the best results.
Requirements for Becoming a Floral Designer in Pennsylvania
There are no national or statewide regulations for the field of floral design. Employers will set standards or requirements for potential candidates. At minimum, you will usually need a high school diploma or GED to find employment within this field. It is possible, however, that you will find employers willing to hire candidates without either of these.
It is a great idea to enroll into a post-secondary education program to build your knowledge as a floral designer. You can find certificate or degree programs at local colleges, universities, or national and regional floral design organizations. Certificate programs will normally take less than one year to complete, while degree programs can be completed in two years
.An internship is another powerful tool to develop your artistry and technical skills. Opportunities like these can be found by networking with industry colleagues in-person or online. You may also attend workshops or local gardening events to build relationships with professional horticulturists. Speaking to them about your interest in the field could land you an apprenticeship or mentorship opportunity.
Becoming a Certified Floral Designer (CFD) will show others that you're serious and passionate about your career. This national certification is voluntary and can be used as a marketing tool for your freelance floral design business, or as a means of earning a higher salary.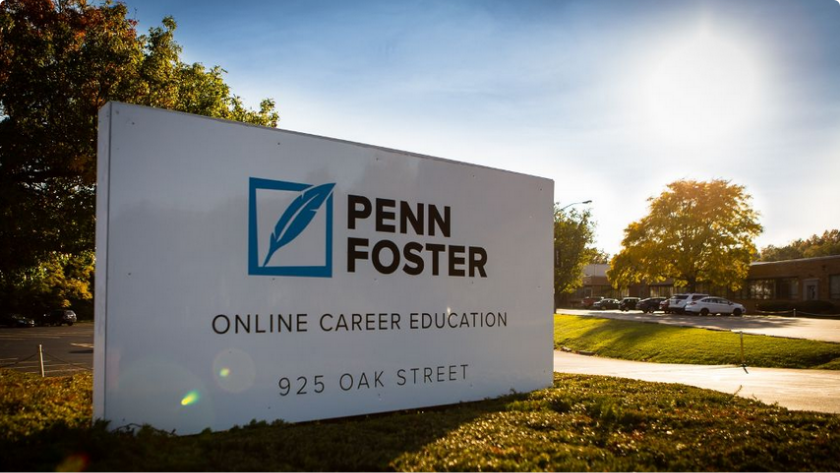 Featured School
Penn Foster Career School – Floral Design Career Diploma
Learn Online at a pace that's right for you
Affordable tuition with customized payment plans
Regionally and nationally accredited Career School
Learn the basics and tools of Floral Design, design techniques and styles, plant care and much more.
Call 1-800-851-1819 today.
Pennsylvania Schools for Floral Designers
You can build your skills and expertise as a floral designer by attending one-day classes and workshops, or attending courses that will last for several weeks. Both methods of training are included below:
Bucks County Community College has collaborated with the American Institute of Floral Designers (AIFD) to create a floral design certificate program. The program can be completed in less than six months, and students will receive the CFD credential upon completion of all program requirements. Tuition is about $3,000 for the entire program.
Delaware County Community College is located in the city of Media. The school offers introductory and advanced courses in floral design. The classes can all be completed within two-to-three months. The introductory and advanced courses are $179 each, while the holiday floral workshop costs $75.
Pennsylvania Floral Academy offers several workshops which last about 45 minutes each. Students will learn basic and advanced techniques, as well as historical concepts regarding floral design. The classes are offered presentation-style, and these presentations require a $200 flat fee. Each student who attends will pay $20 for the basic and advanced courses, while all other presentations will not require attendees to pay an additional fee.
National Certification for Floral Designers in Pennsylvania
When you begin your job search, you may find that most employers prefer floral designers who have at least six months of professional experience. It is possible, however, that you will be able to bypass this requirement when you earn national certification as a CFD.
The CFD credential can be earned exclusively through the American Institute of Floral Designers (AIFD). The organization requires candidates to complete one of the following to become a CFD:
Complete a floral design education program at an AIFD Education Partner, an approved State Floral Association or an SAIFD Chapter (AIFD Student Chapter) and score an 80 percent or higher on the Professional Floral Design Evaluation (PFDE) online test.
Complete the PFDE online test with a score of 80 percent or higher and participate in the hands-on design evaluation.
When you complete one of the above options, you will earn a CFD certificate, pin and a listing in the AIFD's online and printed directories.
The only AIFD-approved training program offered in Pennsylvania takes place at Bucks County Community College. All students will become CFDs as part of this program. If you choose not to attend this school, you will need to complete the PFDE online test and hands-on design evaluation in order to become a CFD in this state. This will require you to pay a $150 enrollment fee, followed by an exam fee of $1,550.
Annually, CFDs are required to pay $124 to maintain certification. You will also need to complete at least 25 Continuing Education Units (CEUs) every three years. CEUs can be earned by attending a selection of AIFD-approved workshops, seminars, presentations and more.
Career Outlook and Salary Expectations
In Pennsylvania, florists earned $12.49 per hour on average during 2017, according to Bureau of Labor Statistics (BLS) data. This is equivalent to $25,990 per year. The same data show that the highest paid floral designers earned more than $36,000 during the same year.
The Projections Managing Partnership (PMP) reported that there were 1,890 people working as floral designers in this state during 2016. By 2026, the PMP expects there will be 1,610 florists employed in Pennsylvania. This signifies a 14.5 percent decline in the job market for floral designers during this 10-year period.
Working as a Floral Designer in Pennsylvania
Floral designers may work outside in gardens, caring for and cutting live plants and greenery. You may also complete tasks indoors, using design techniques and other tools to create pieces like bouquets, centerpieces, displays and more.
The highest paid floral designers in Pennsylvania work in cities like Levittown, Doylestown and West Chester. You may find work in the floral departments of local supermarkets, floral design studios, greenhouses, gardens and retail flower shops.
Pennsylvania College of Technology
One College Avenue, Williamsport 17701
Lavender and Locks LLC
835 Hereford Road, Harrisburg 17022
Bucks Community College
275 Swamp Road, Newtown 18940
Westmoreland County Community College
145 Pavilion Lane, Youngwood 15697
Pisarcik Greenhouses and Flower Farm
365 Browns Hill Rd, Valencia 16059
Delaware County Community College
901 S. Media Line Rd, Media 19063
Pennsylvania Floral Academy
325 4th Street, Freeport 16229
Delaware Valley University
700 E. Butler Ave, Doylestown 18901
Longwood Gardens
1001 Longwood Road, Kennett Square 19348
Phipps Conservatory and Botanical Gardens
One Schenley Park, Pittsburgh 15213
Penn Foster Inc
925 Oak Street, Scranton 18515
https://www.pennfoster.edu/programs/creative/floral-design-career-diploma